Role // 
Video Editor UI Designer
Year // 
2020 
Medium // 
Website Design
Güdhaus was designed in response to a brief, as part of an annual design competition put on by the Royal Society for Arts. We were challenged to encourage communities and people to think long term. We focussed on the issue of e-waste, creating an online store, information hub and repair resource, providing a one stop shopping experience that will provoke long term thinking, in terms of small household appliances. 
We used the google design sprint method when creating a solution and validating it. For each sprint (there were 5) and our final presentation, we were required to document our progress in the form of a video, which I filmed and edited. As a team we all worked to research, conduct interviews and design the UI. 
Our chosen brief from the RSA asked us one question: "How might we encourage people and communities to think and act for the long term?" The rest was up to us, so we thought how might take such an abstract idea, and use it as our starting point in creating something that we can incorporate into something that touches others lives?
At the beginning, we chose to see how we might help families record their stories so that it could be passed on down generations without much effort. We conducted interviews as a way to understand how others view their family history and how we might be able to help. 
During the second sprint after researching possible competitors, we discovered that this issue seemed to be solved in many ways already. So we pivoted and ended up going in the direction of electronic waste. This interested us because electronics are a pretty big part of our lives. There seems to be a decent amount of focus on phones, laptops, tablets, etc. but not much focus on smaller, house-hold appliances - which we actually found out, through research, makes up more than a third of the global e-waste. 
We conducted a google survey with around 30 individuals. Some of the questions we asked included: 
1. When you have old electronics, what do you normally do with them?
2. Do you have options in your community to get rid of e-waste? What are they?
3. What household appliances do you find break the most often?
4. Have you ever tried to repair a broken household appliance? If so, how did you go about it?
5. How affordable are your small household appliances?
6. Do you feel like your small household appliances have been worth what you paid for them? Are there some examples of ones that haven't?
7. What smaller appliances do you find you use the most and which ones don't you use that often?
From our survey, we discovered that lack of convenience seems to be the main issue when dealing with the waste of small appliances. People want to be environmentally conscious, but simply don't have the time. Busy schedules get in the way of finding the perfect appliances that won't cause further damage to our already suffering world, and toasters that break every six months make it even harder to develop the proper disposal habits.
From these answers, we created three personas that we explain in detail throughout our Sprint 2 presentation video.
During the third sprint, we all went off to brainstorm solutions individually. Using strategies such as crazy eights, mind mapping and more, I came up with possible ideas that the group might find interesting.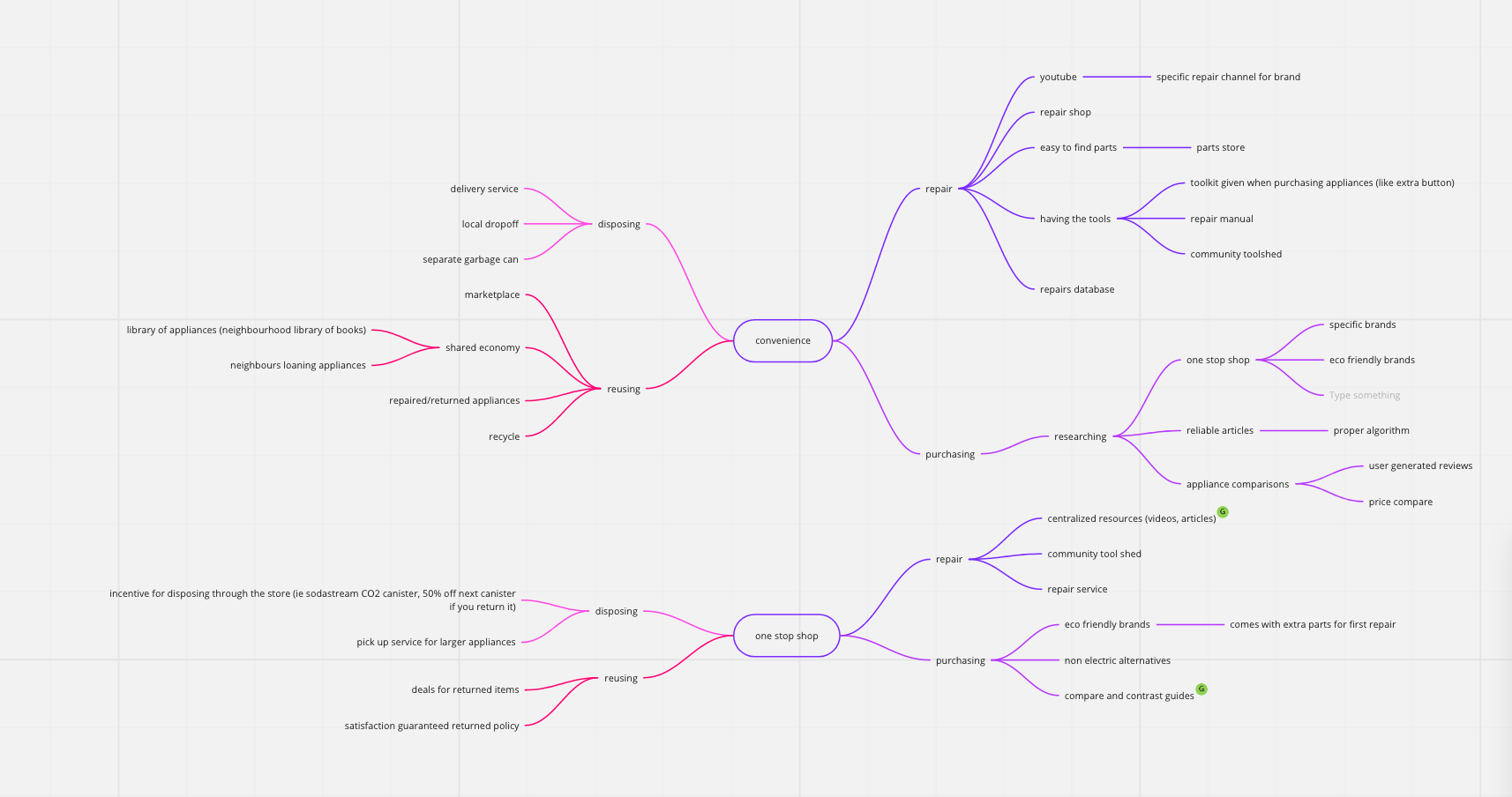 Our individual ideas and processes are fleshed out in the third sprint video presentation.
For the fourth sprint, we came back together as group to decide what our solution to the brief would be. We settled on Güdhaus Co., a one stop shop for small appliances, that offers repair services and resources for the ultimate convenient experience. 
Below, is a heat-map where we laid out all the ideas and voted on different aspects to create Güdhaus.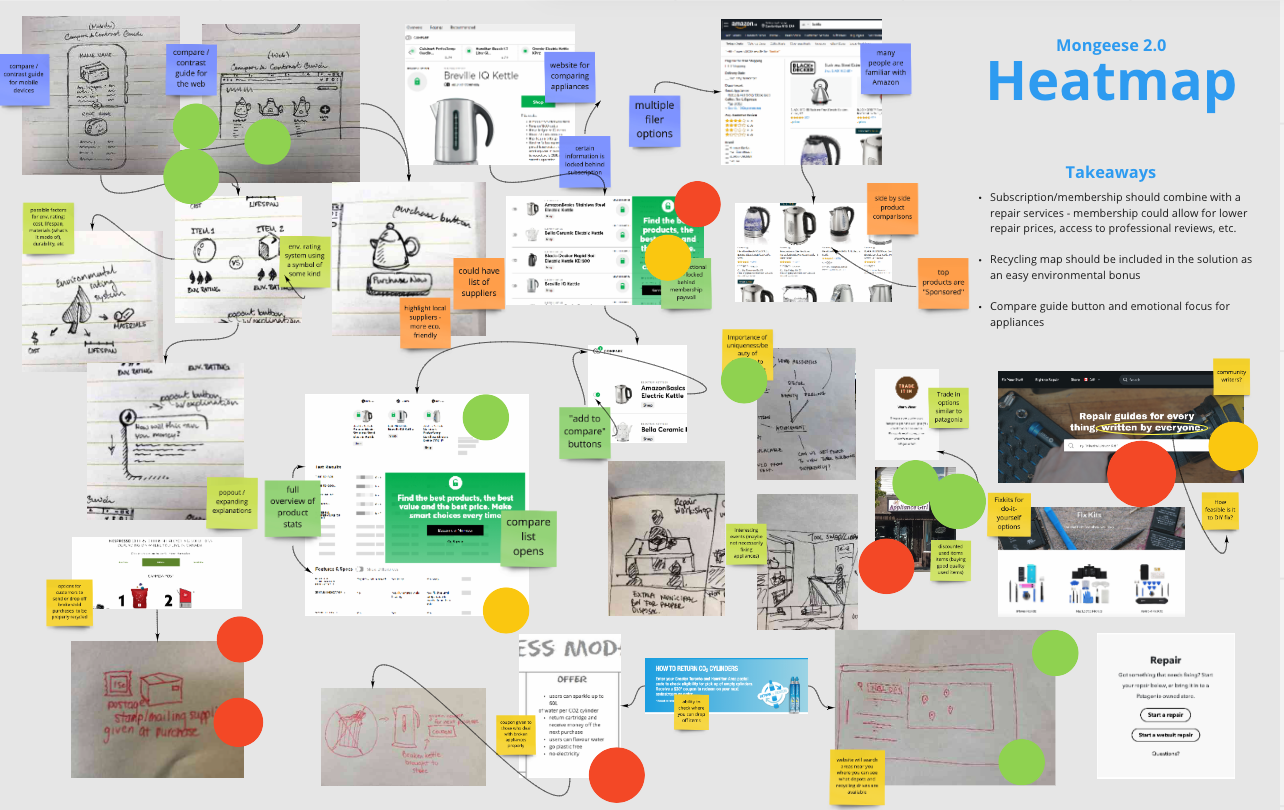 Part of the requirements for the RSA competition included proposal boards that explained our idea, processes, its via

bility and impact. Below, are the four boards we designed.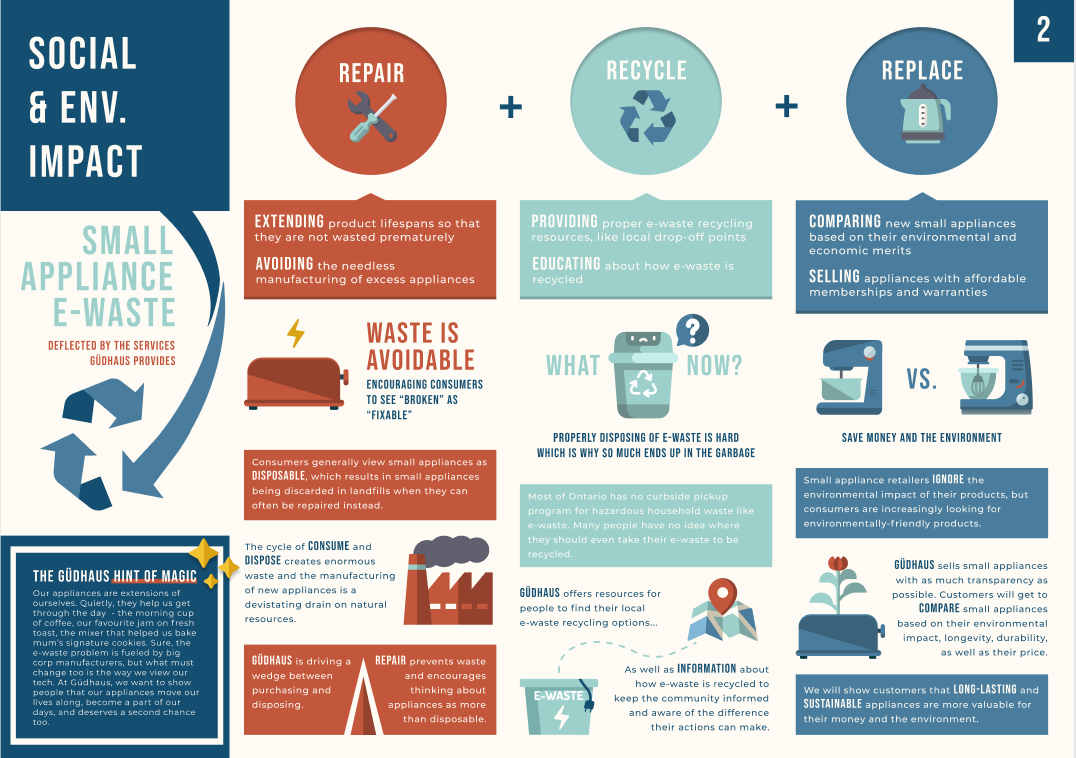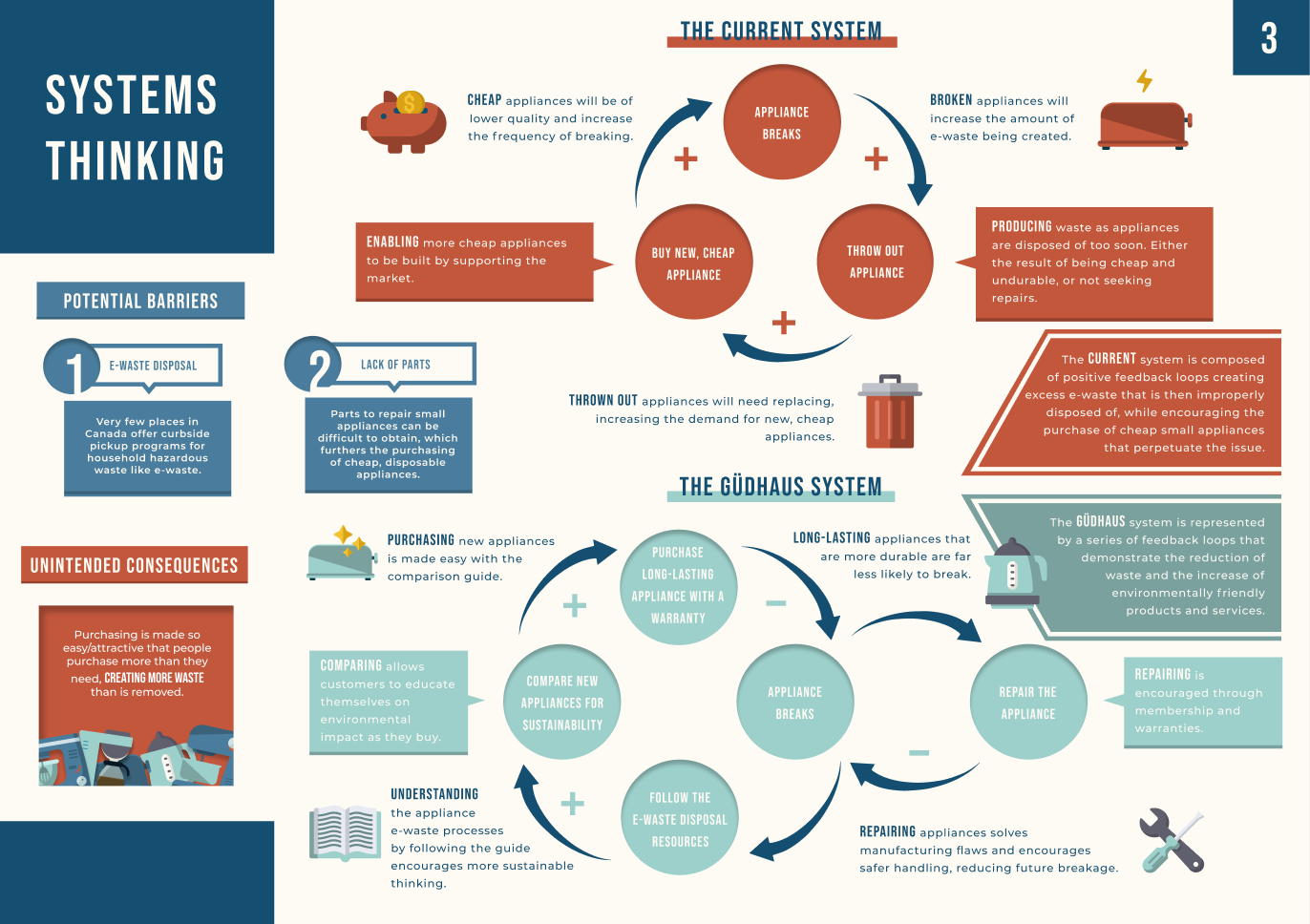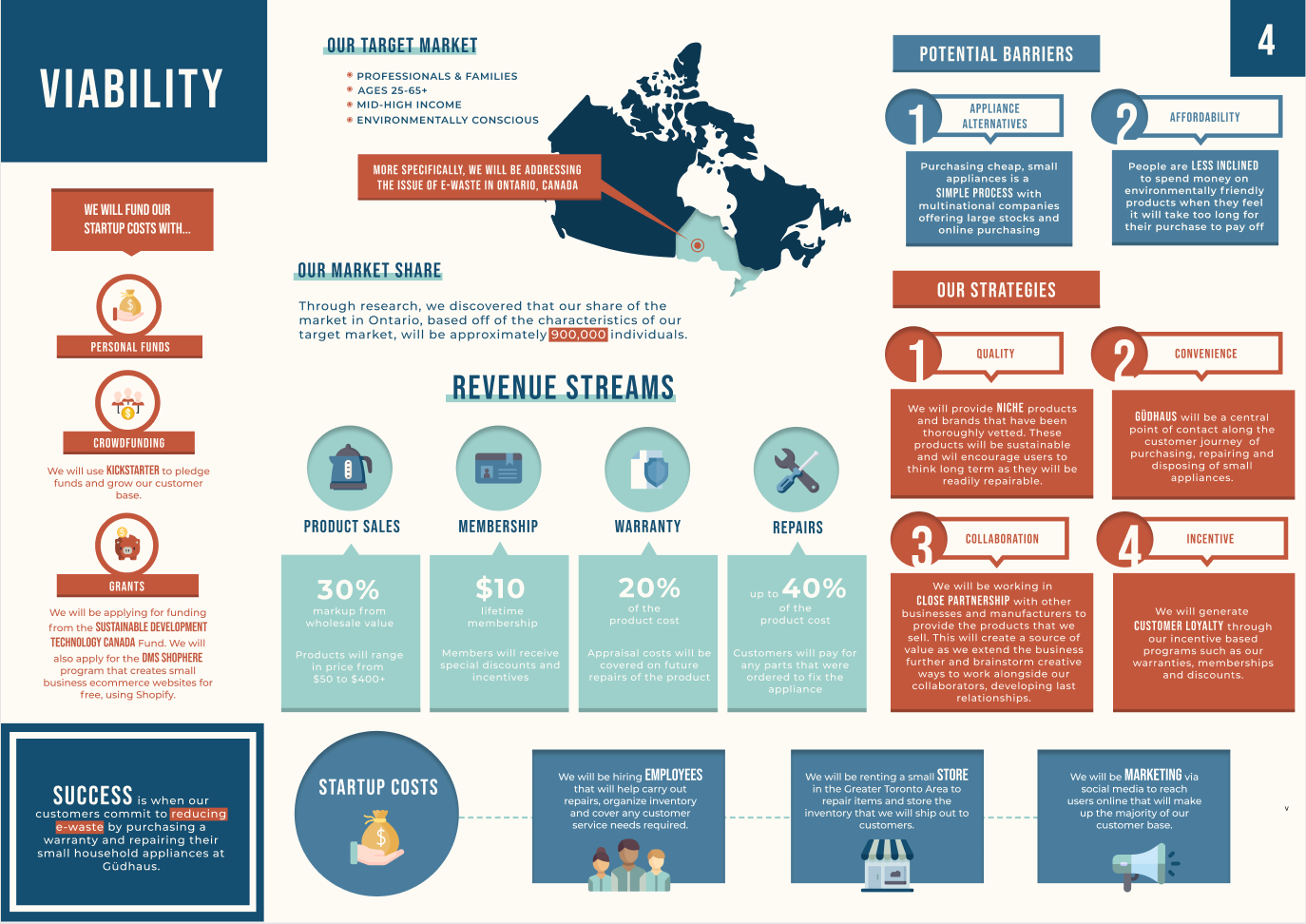 Some of the finals steps while creating Güdhaus, included wireframes and our final prototype. During the fifth sprint, we created a website on Figma. First, it just looked like boxes and shapes, but eventually we added colour, improving its aesthetic and overall online environment for users.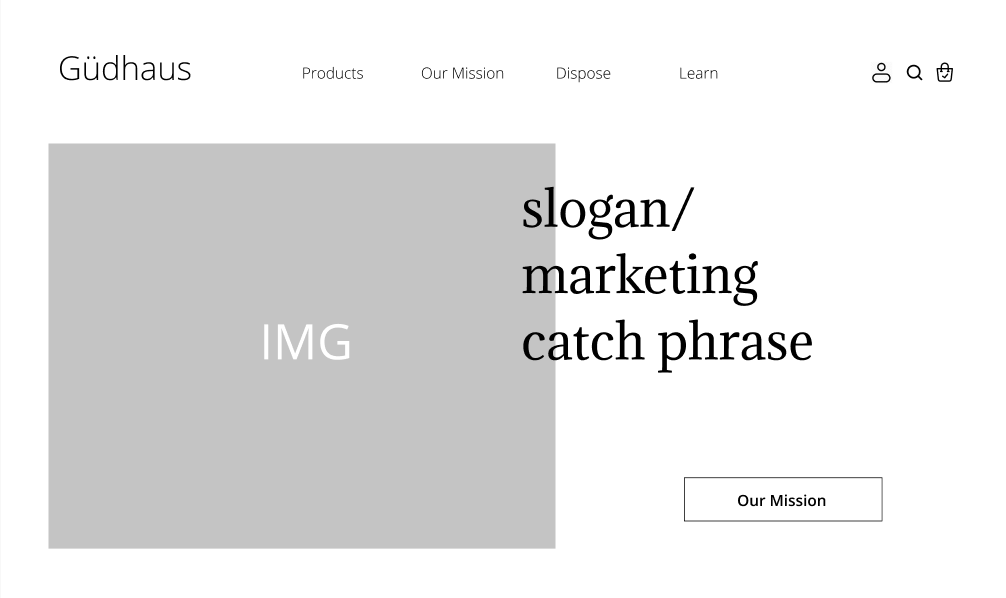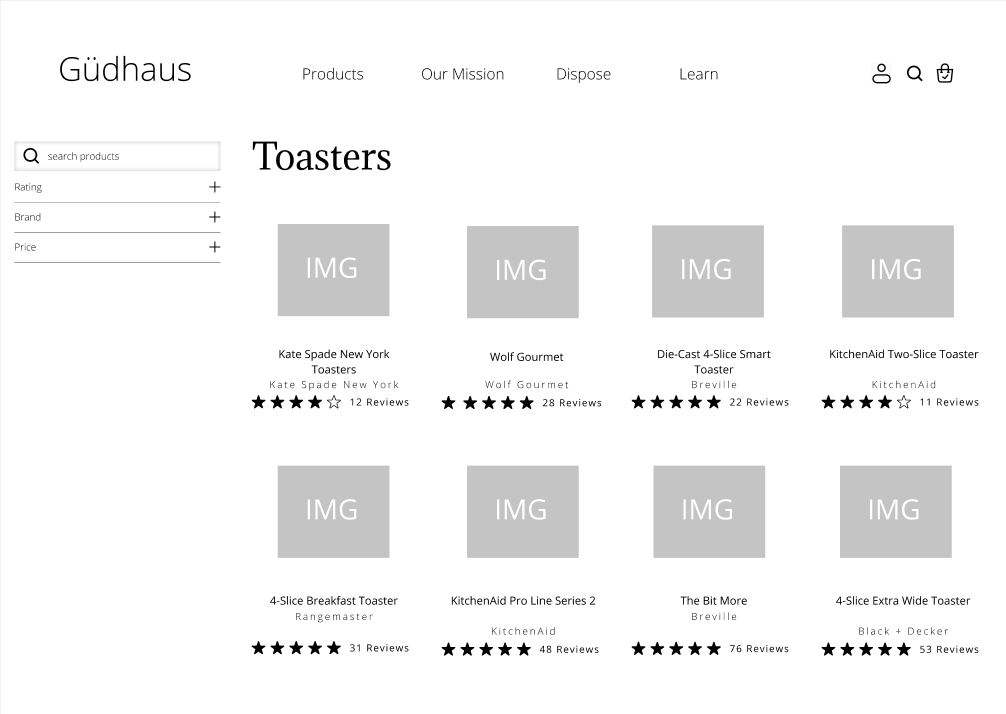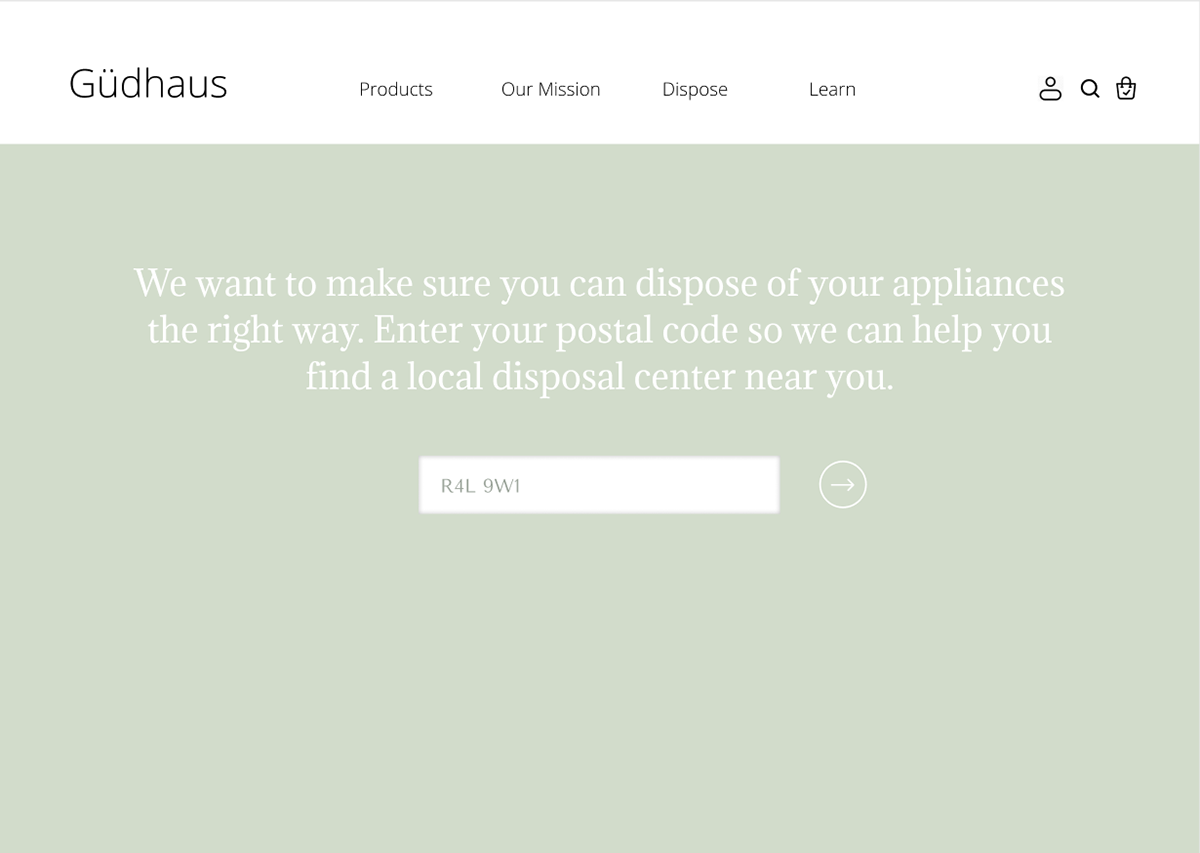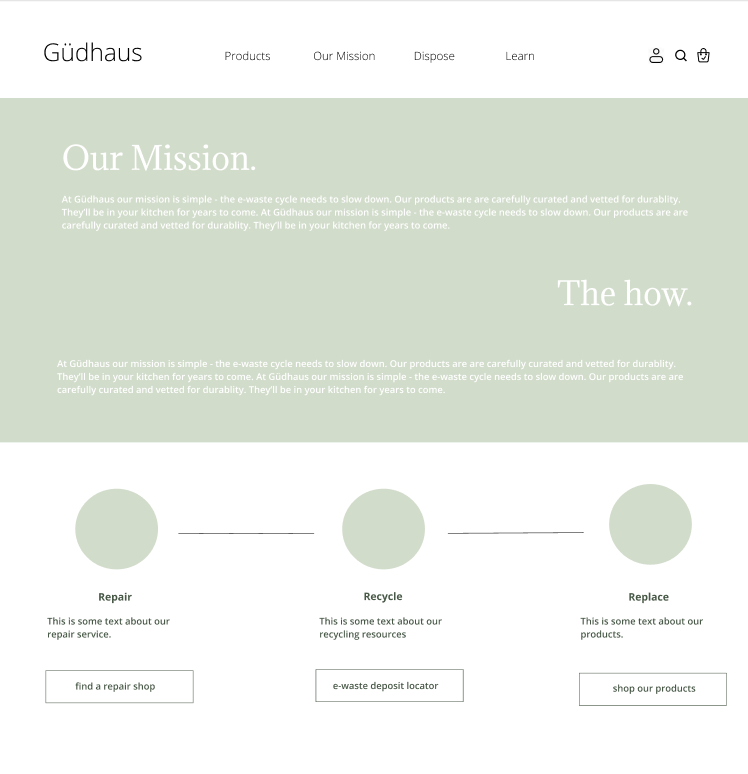 We used the low fidelity prototype to conduct user testing with three individuals. We observed the users while they completed a set list of tasks we created for testing. Feedback we received, centred around legibility due to the light green colour we had originally for the background, so we re-evaluated our palette.
Our final prototype embodied what the live website would like for our customers. We made sure to include simple navigation flows and make it clear what we do. Below, is a link to our interactive prototype: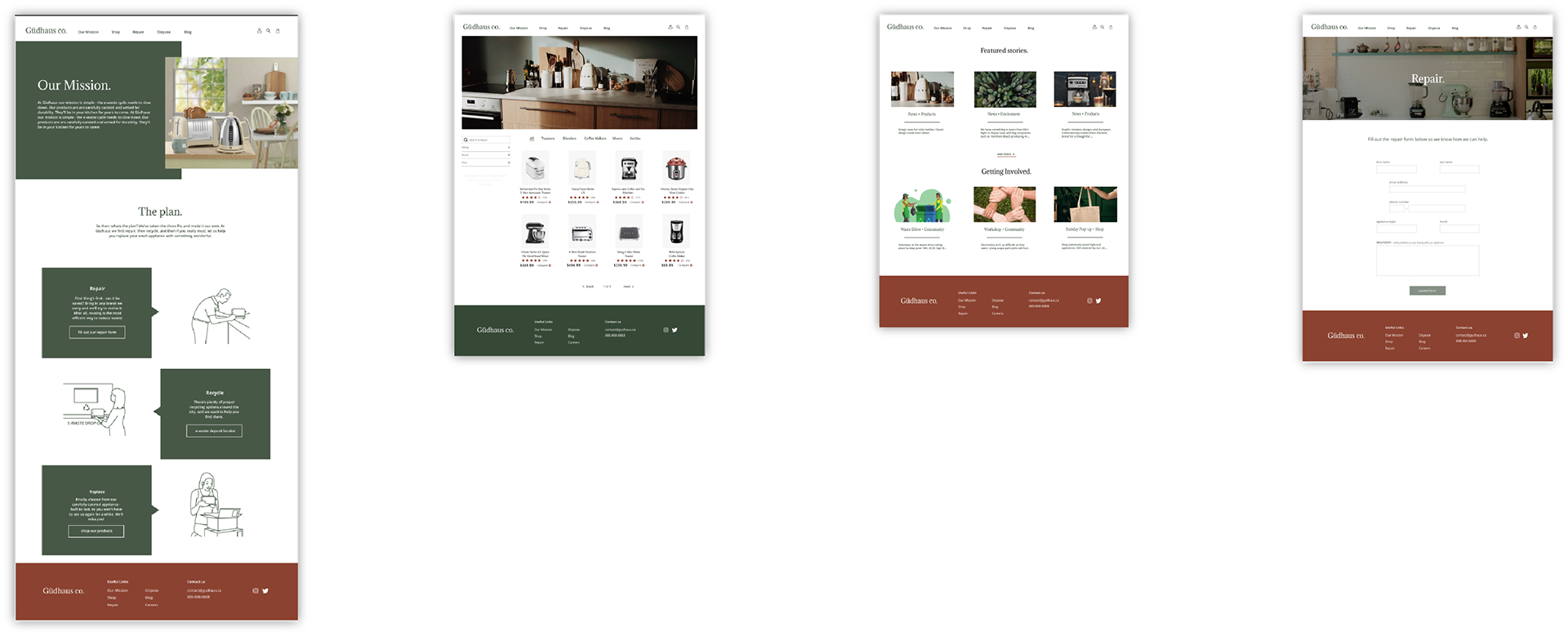 Our final presentation video covers our process, prototype and business plan.